Compliance
As a company operating all around the world, we have corporate social responsibility toward our customers, employees, financial backers and the general public. This corporate social responsibility requires us to comply with all applicable laws, to respect ethical values and to act in a sustainability-oriented manner everywhere and at all times.
Code of Compliance
The KION Group Code of Compliance contains the rules that govern the way we do business in the KION Group.
Code of Compliance - Additional languages
Compliance Principles
Supplier Principles
The Principles of Supplier Conduct outlines the standard with regards to business ethics, employment and labour practices, health and safety and environmental practices. The KION Group expects its Suppliers to comply with them.
Principles for independent sales partners
We as the KION Group and our brands value close and productive cooperation with our partners in our Sales and Service Organisation. Therefor we believe that a joint understanding on the principles of doing business is essential for a mutually benefitting business relationship.
Compliance Management System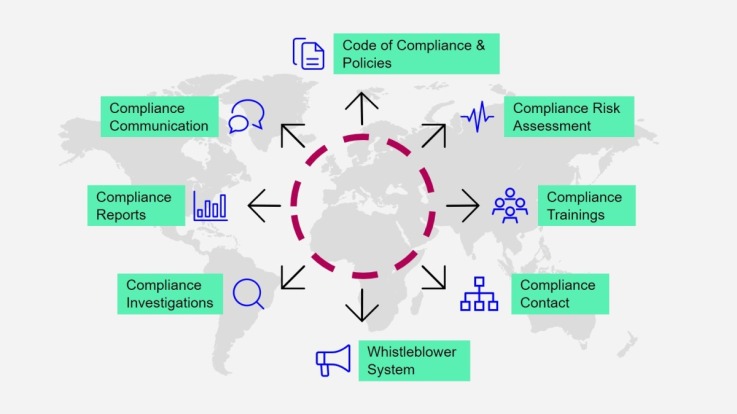 Code of Compliance & Policies
The KION Group Code of Compliance (KGCC) covers all aspects of compliance that are relevant to us, and provides the framework for everyone in the Group. The KGCC applies to all sites around the world, to all business segments, and to our interactions with employees, customers, and business partners.
Compliance risk analysis
Our compliance measures are defined and prioritized on the basis of company-wide compliance risk assessments.
Compliance training
Our employees learn about the basic principles of compliance in web-based training sessions, which also raise their awareness of the specific legal risks that we face. Classroom-based training on particular compliance topics is targeted at specific groups.
Compliance contact
Our employees and third parties can contact our compliance team with any compliance-related queries.
Whistleblower system
Potential infringements of laws or of our regulations can be reported through an anonymous and confidential external whistleblower system or via internal channels.
Compliance investigations
The implementation of, and adherence to, compliance requirements is regularly audited by Group Internal Audit and monitored by Corporate Compliance and the Compliance Committee.
Compliance reporting
For the purposes of compliance reporting, a survey is regularly conducted across the entire KION Group to check whether compliance requirements are being fulfilled. The results provide the basis for the Chief Compliance Officer's report to the Executive Board and the Chair of the Supervisory Board's Audit Committee.
The effectiveness of the KION Compliance Management System was audited by an external auditor in compliance with the German accounting standard PS 980 and with ISO 19600.
Compliance communication
Employees are regularly kept up to date with compliance-relevant matters through a range of internal guidelines, training, and the KION Group social intranet.
Compliance Organization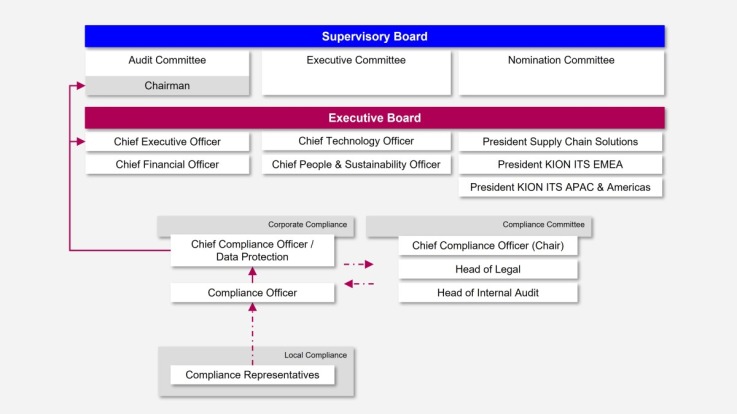 Whistleblower System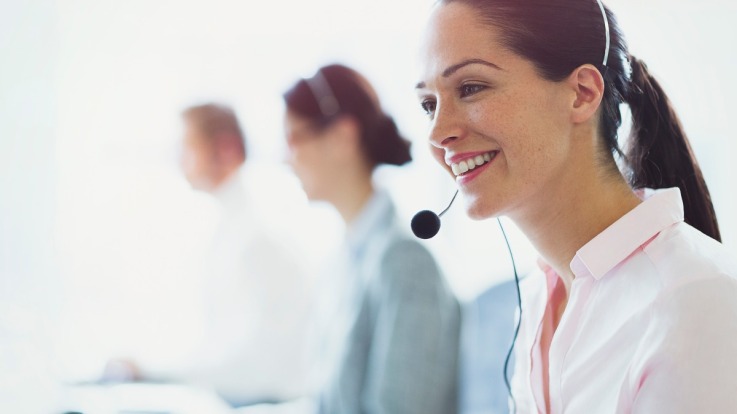 Reliable reporting channels for internal and external interest groups help to ensure that any potential misconduct is reported, thoroughly investigated, and resolved.
The KION Group offers a variety of reporting channels to internal and external whistleblowers in order to facilitate the identification of potential compliance breaches.
If you have specific, substantiated evidence of a severe breach of the law or of other regulations at KION Group or one of our subsidiaries, or have reason to suspect that one has occurred, then you can contact the relevant compliance department using the following methods:
By email to:
comkiongroupplianckiongroupe@kiongroup.com
By post to:
KION GROUP AG
Corporate Compliance
Thea-Rasche-Strasse 8
60549 Frankfurt am Main
Germany
KION GROUP AG will follow up all tip-offs, and we guarantee the utmost confidentiality and fairness toward the whistleblower during our investigations. This also applies to any employee who may be under investigation.
Compliance Hotline (anonymous)
In addition to the contact methods mentioned above, there is also an external whistleblower hotline.